Laminate flooring underlay
How to choose which is the best underlayment for your wooden floor
You need to make sure when choosing laminate flooring underlay you get the best underlay for your sub floor before you can start the installation.
There are different types of underlay depending on the type of sub floor you have and how much sound proofing, insulation and moisture barrier you need.
You must pick the right underlayment in order to get the most out of the floor, and avoid problems from moisture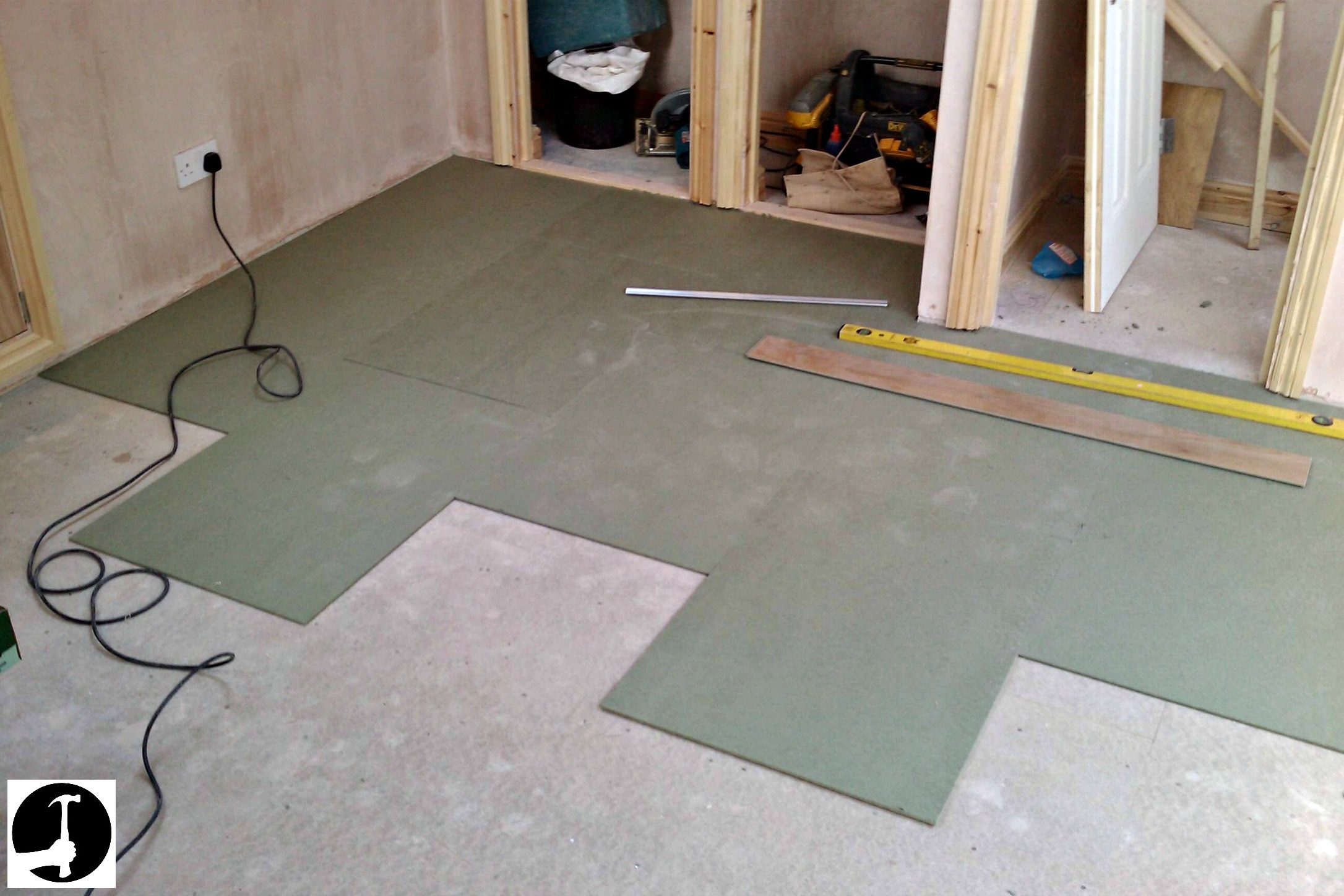 Foam board underlay tiles
The floor I laid in the picture above was in a loft conversion. The green foam tile underlay is around 10mm thick and good for lofts and bedrooms with chipboard floorboards because it provides some sound insulation and dampening as well as a slight cushion under the foot when you walk on it.
I wouldn't recommend spending extra money on a heat reflective underlay that helps insulate the floor because loft floors are already insulated between the joists during construction anyway.
Always stagger the joints like brickwork so there aren't straight joints, and lay the rows in the opposite direction to which the flooring will be laid. This helps to strengthen the whole floor and spread loads over any slight discrepancies. Alternatively in a loft, use fire retardent underlay that is available in rolls - slightly easier and quicker to put down.
Best laminate flooring underlay for concrete floors
If you are laying a floor on a concrete or screed subfloor then you must use a damp proof membrane and tape all the joints up with vapour barrier tape. I've seen a hardwood floor expand so much it pushed the dwarf brick walls of a conservatory out and cracking all the brickwork because it sucked in so much moisture!
Laminate flooring doesn't expand quite as much as real wood but without a damp proof membrane the floor will buckle and lift up in the middle as it takes on moisture.
Buying and installing the DPM and underlay seperately often works out more expensive, more fiddly and is twice the work as using a combined DPM and underlay. It's so much easier to install when they're combined because you only have to cut and lay one roll and it doesn't try and move or slide around as much while you are working on it.
If the concrete subfloor is not flat you will need to level it out with a self-levelling latex compound.
Best underlayment for wooden floors
For laying on chipboard floors or another type of timber then the foam underlay like i've used in the picture at the top of this page is really good. They are thick enough to lose slight discrepancies and bumps, bring the new floor up to the same height as the carpets so there isn't a small step up and are really easy to cut in and lay. Make sure all the nails are punched down under the surface before laying.
Normal tongue and groove floor
If the wooden floor you are installing has a normal tongue and groove system instead of a click together joint then you can use a sticky underlay. Lay it down like normal and only peel back the backing paper when you are completely ready to stick a row down. Using this underlay means you don't need to fix the floor to the sub floor it can be laid as a 'floating floor'.
Best laminate flooring underlay for underfloor heating?
If you are using electric underfloor heating choose a good quality thermal underlay that will ensure as much of the the heat as possible goes up into the room instead of down into the subfloor where it will be wasted. If it is something like 'HandyHeat' on a concrete subfloor, you lay insulation, heating, then moisture barrier before laminate.
Once you have the right underlay, click here for an easy to follow step by step installation guide
---
Laminate flooring underlay related pages
Choosing a laminate floor
Laminate flooring tools
Back to main laminate page
Leave laminate flooring underlay and return to carpentry tips and tricks home page