Loft Conversion Building Regulations
Find out the various Building Inspection stages and some of the things the inspectors will check!
Loft conversions involve major structural alterations and all the loft conversion building regulations must be met. Apart from it being dangerous, problems will arise later on when the homeowner comes to sell the property if the loft hasn't been built to a reasonable standard.
When planning and the drawings have been approved and the work has begun a building inspector will need to make visits at interim points to check that the loft conversion building regulations are being adhered to.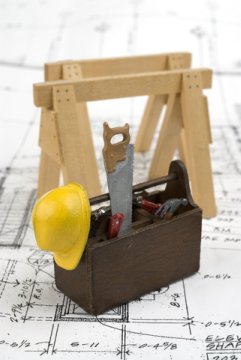 The normal building inspection stages for a loft are as follows: Structural inspection
During the design stage a structural engineer and architect will provide plans to submit that are structurally sound. Before the flooring goes down the building inspector will check at this stage that the construction is to the plans that have been submitted and approved. The structure includes timber or steel beams (including spreader plates), floor joists (size, number and centres), purlin wall + strapping, dormers, any re-roof work, doubling up of rafters, flitch plates, collars and anything else shown on the drawing.
Insulation Inspection
Shortly after the structure is checked, the inspector will make another visit to check that the insulation being installed complies with current legislation. This will include sheet insulation between rafters and studs at the purlin wall(75 or 100mm), rockwool/fibreglass rolls between joists, Multi-Foil Roof Insulation like thinsulex over the top of rafters and sound insulation (like rockwool) between studs on internal walls.
Final inspection
When I converted my loft in 2006 I had to install a fire door in the loft room with an automatic closer, as well as automatic closers on the doors to all habitable rooms from the hallway (habitable rooms are kitchen, bedroom, study, dining room etc, not cloakrooms or bathrooms.

I also had to fit a velux window within 1300mm of the fascia/gutter so that in an emergency a fireman could reach me and I wouldn't slide down the roof and knock him off his ladder. This created a problem though, a very low window board that a small child could easily reach the large window from. So, I had to make a removeable guardrail to prevent this.
Both these regulations have since been changed. Almost everybody with children or pets used to remove the automatic closers because they were dangerous, impractical and annoying. Instead of needing an escape window in the loft, fd30 fire doors are installed on all habitable rooms from the corridor and automatic closers are no longer needed. This creates a protected means of escape through the hallway if a fire breaks out in a room and the door to it is closed.

This means that if the staircase of the property leads from the hallway, a partition wall will need need to be built that can hold a firedoor.

All staircases need 12.5mm plasterboard on the back to give 1/2 fire protection.

Windows no longer need to be low, and unless the bottom of the window is lower than 900mm, no guard rail is needed.
Other things that are checked at this stage are adequate ventilation, smoke alarms, insulation on the back of doors that access eaves space, staircase headroom height, handrail height (min 900mm), spindle spacing (max 100mm). Handrails to french door guard rails need to be 100mm high from the top of the cill.
In addition
As well as all these regulations being met, all electrical work will need to comply with Part P regs. New plumbing work will need to comply with relevant regs and if new drains are installed instead of connecting to existing then a pressure test will have to be carried out.
These are the most common, each loft is different though and there will likely be other loft conversion building regulations that need to be met.
Building regulations are constantly changing. This information is offered as a guide only and work should only be undertaken once planning permission has been obtained, you have checked with your local building inspector and/or planning department and have written confirmation of the relevant building codes - don't take someones word for it. If in doubt, check out the latest copy of the building regulations
and have the information you need ready.
Click here to see what's involved in each of the stages when building a loft conversion.
Have a comment or question abuot loft conversion building regulations?