Screwdigger & Wood Plug Cutters

Wood Pellet cutters for hiding unsightly screws neatly

I use screw-diggers and plug cutters because it is really important to go the extra mile and pay attention to detail in these areas during finish carpentry work. Using these bits to drill the pilot/clearance holes and corresponding wooden pellets to fill them, makes your fixing methods less visible and unsightly.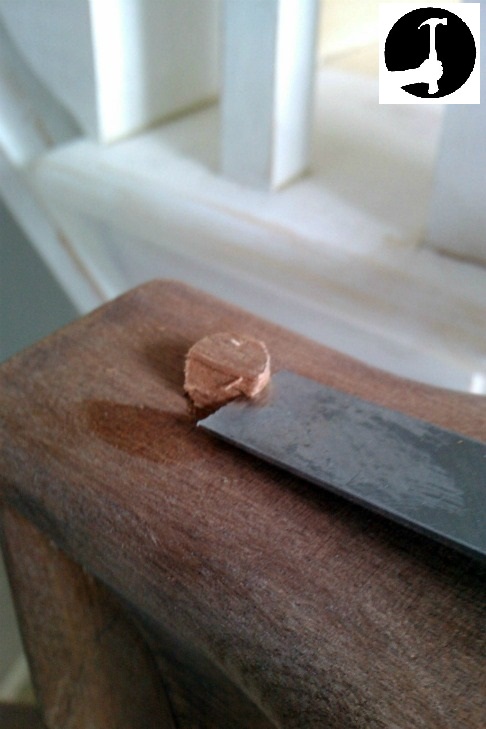 By using a matching off-cut of the timber you are fixing to make the plugs with, positioning them centrally and matching the direction of the grain will ensure they don't look out of place but can even become a decorative feature that enhances the appearance of the work-piece and looks like it is supposed to be there.
The pictures above are of a mahogany continuous handrail I installed and with some of the mitres there was no option but to strengthen the joint with a large screw. Once the screw hole was filled with a pellet it was barely visible, and doesn't look out of place.
Probably the most common job I use pellets for is when fixing stairparts like half newel posts to walls and hand rails to newel posts. I've seen some people just screw handrails straight on through the top and then fill the holes with wood filler. That is carnage! Fixings have got to be hidden with stairparts wherever possible especially if the staircase is going to be stained or varnished.
Some cutters are designed to be used with a heavy pillar drill in the workplace whereas others are compatible with a cordless drill - better for me because I use them on site as I work.
Above are the drill and countersink bits I use to make a hole big enough for the screw-head and a pilot hole at the same time. Also there are the matching plug cutters that go with them. I did have trend pellet cutters but you practically have to sit all your weight on the drill to get enough weight behind it to actually cut through the timber, was almost impossible to cut hardwood with them. The faithful ones I now have are much sharper, easy to sharpen when dull and much quicker at cutting. Plus, because they are all made by the same company the plugs fit perfectly into the holes made by the drill bits. You don't need to buy sets like these if you won't use them that often, they're available individually as well.
Click here to see more of the nails, screws and other fixings I use for finish carpentry
Have a comment or question about using plug cutters?