Start a Carpentry Apprenticeship -
you won't regret it!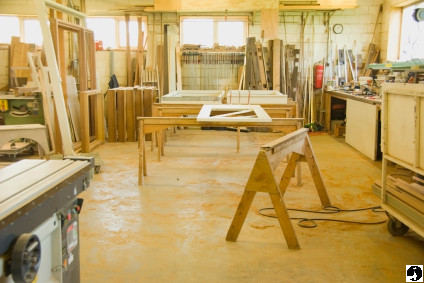 Train as a carpenter - & Earn while you learn
Enrolling in a wood occupations NVQ carpentry apprenticeship is the best way to start your career as a carpenter.
An apprenticeship is a great way of gaining qualifications and work place experience at the same time. And of course, on top of starting a great new career you will also 'earn while you learn', you don't get paid to do A-levels and going to university may result in being debt ridden for years to come.
Because a carpentry apprenticeship involves work based training that is designed around the needs of employers you gain real skills that are always in demand - on top of internationally recognised qualifications!
I'm currently working in Australia, and my VISA application was processed much faster because I spent the time getting my NVQ qualifications and training as an apprentice. They are internationally recognised qualifications that could land you a job abroad if you ever wanted to leave the UK and gain experience in another country.
How much money does a carpentry apprentice earn each week?
One thing I didn't like about the idea of going to university, is racking up lots of student debts whilst I gained my qualifications, then starting work already up to my eye balls in debt!
At the time of writing, in the UK every employed carpentry apprentice must earn a minimum of £3.70 an hour wages (see here for up to date minimum hourly rate for carpentry apprentices), however the average an apprentice can look forward to taking home is £170+ per week because most employers pay much more than the minimum. 
And this will only increase as you gain more skills and progress through the course.
On top of the wages and training, carpentry apprentices are paid for bank holidays and 20 extra days holiday per year.

Once qualified, a full time newly qualified carpenter can earn upwards from £18,000. It's also very common for carpenters who don't want to move up the career ladder within a company to go on and work for themselves, becoming self-employed.
This means you can be your own boss and even go on to employ others and build a successful business of your own. The great thing about Carpentry is you get out what you put in. By that I mean the money you can earn is only limited by the amount of hard work you are prepared to put in!
You will always be in demand - family and friends always want to pay someone cash for their doors that need hanging, kitchens fitting and so on. Cashies that you will of course declare in your tax return ;-)
Am I the right age/old enough to start an Carpentry apprenticeship!?
You need to be a minimum of 16 years old and training is free if you are between 16 and 18. There is no maximum age limit an apprentice can be.
As long as you meet the entry requirements and are fit enough to do the work it doesn't really matter how old you are!

How long does a carpentry apprenticeship last?
The carpentry apprenticeship course is two years long. After that you are qualified to go out and work on site and that's when you will really start to learn! I think it is really worth staying on for an extra third year to gain your NVQ level 3 like I did.
There was much more advanced work in staircase design, roofing and pricing up jobs. It's definitely worth staying on for another year and gaining the extra skills and knowledge while you can. I didn't really like college and the company I was with wanted me at work 5 days a week instead of being on day release for another year.
But, I funded the third year myself and finished it in 9 months. I knew after that I'd never have to see another classroom again! It was worth it.
College is a lot of fun too, make the most of it because once you start working you are in it until you are 65+!
Where can I find a carpentry apprenticeship vacancy?
The best place to go to find carpentry apprenticeship vacancies in your area would be the national apprenticeship website.
A great thing about the site is there are also opportunities there that you ma not have already thought of, like serving a carpentry apprenticeship building yachts!
Check out the UK 'Find an Apprenticeship' search tool here - good luck!

What does the apprenticeship involve?
In order to qualify and gain your NVQ carpentry and joinery qualifications you are required to complete tasks both in college and at the workplace.
The first jobs in college include;
Mark and cut basic woodworking joints like a mortise and tenon, dovetail etc.
Make, assemble and fit door lining then hang a door in it
Learn to fit mortise latch/lock in a block of wood with a brace and bit (hand powered drill)
Cut skirting board miter and scribe
Assemble stud work wall to drawing
Scribing to irregular surfaces
Once the basics are covered you will move on to more advanced tasks including kitchens, staircases and learning roofing skills.
What tools does a carpentry apprentice
need to get started?
I had nothing when I first started my apprenticeship! If you are employed by a company they have to supply all your P.P.E. like steel toecap boots, gloves, hard hat, hi-viz jacket etc. Although you won't be expected to have a full tool kit you should at least if you can afford it buy;
Hammer
Tool bag
Screwdrivers
Chisels
Hand plane
Bevel
Other tools can be collected as you go. The company I worked for would let me buy tools on their account and take £10/£20 a week out of my wages. I tried to always be paying something off so I built up a toolkit really quickly, not because I liked being in debt but there are so many (power) tools to get you really need to start as soon as possible.
The more tools you have when you finish your apprenticeship, the more jobs you can take on.
What kind of carpentry jobs are out there?
There are loads of different types of jobs and directions, you could undertake as a carpenter. In the beginning an apprentice, then an improver. From there you could be an all rounder or specialise in a particular aspect of carpentry work such as;
Form work carpenter - makes form-work that concrete is poured into. Generally for larger scale construction like road works, and commercial projects like car parks and high rise buildings
First fix carpenter - builds framing and first fix work such as floor structures & walls, bulkheads, installing staircases & possibly roofs too
Roofing carpenter - specialises in building roofs such as flat and pitched roofs
Second fix carpenter - specialises in finish carpentry such as doors, architraves, skirting boards, shelves, stair hand-rails and balustrades 
Kitchen fitter - as the name suggests! Kitchens & other cabinetry
Once you are qualified you can stay with the company you trained with, look for a different carpentry job or even better go self employed, start advertising for your own work and build a successful business of your own.

Similar pages you may find useful
Click here to learn about advertising a carpentry business and generating more work
See here why you should start putting together a portfolio of your best work as soon as you can
Or here to go back to the main carpentry career page
Have a comment or question to ask about starting a Carpentry Apprenticeship?